EXCEPTIONAL QUALITY FROM
CAVIAR DE NEUVIC
–
GC-Synergy is both honoured and excited to be the exclusive importer of Caviar de Neuvic into Canada and Western USA. This exceptional line of Russian sturgeon caviar products is now available in North America for the first time.  Their caviar is widely celebrated by top hotel and restaurant chefs and the specialty food industry in Europe and the Far East.
Today Sturgeon pisciculture has emerged as the ethical and most sustainable way of meeting the flourishing caviar market, especially since the harvest of wild Russian and Iranian caviar has been broadly banned.  At GC-Synergy, we elected to import and distribute the Caviar de Neuvic line, because they are an outstanding company that produces the very finest. Their meticulous attention to environmentally conscious and sustainable caviar is commendable. The highest standards are employed to rear their sturgeon under French "Bio" specifications (equivalent to "Organic" in North America), resulting in a stable supply of exceptional Russian caviars.
Caviar de Neuvic orders supplied by GC-Synergy, have all necessary authorization plus government documentation and can be tracked from the farm to your customers table.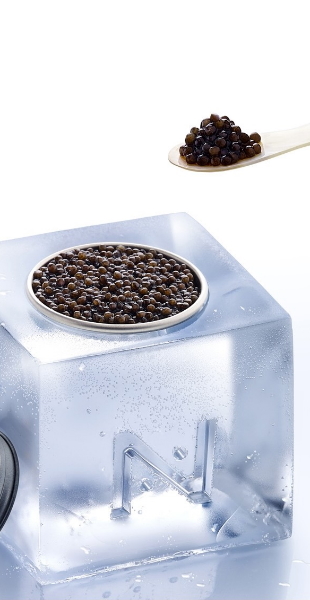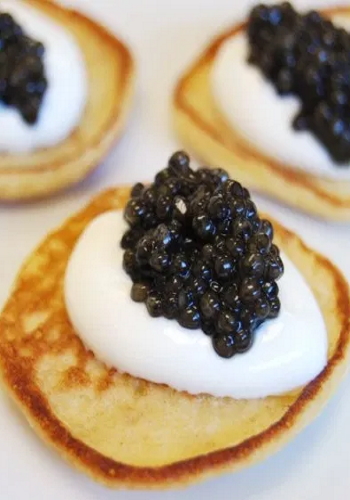 OUR CAVIAR RANGE INCLUDES
BAERII, OSETRA AND BELUGA
–
Varieties available of Caviar de Neuvic's outstanding line include Baerii (Acipenser Baerii), Osetra (Acipenser Gueldenstaedti) and Beluga (Huso Huso). The Caviar de Neuvic – Siberian Baerii and Russian Osetra Sturgeon are raised over seven to ten years on their private estate in Dordogne, France. The majestic, much larger and long-lived Beluga Sturgeon are reared privately for Caviar de Neuvic at another facility through an exclusive partnership.
Each caviar order for GC-Synergy is exclusively prepared with a light salt treatment from hand-picked sturgeon to meet Canadian and USA specifications and tested in the Caviar de Neuvic laboratory before shipping. This ensures customers receive only the freshest, highest quality product when purchasing from us.  Our caviar is packaged in tins of varying sizes: 30g, 50g, 100g, 250g, 500g and 1000g, shipped temperature-controlled by air and delivered to you "jet fresh" to meet our and your meticulous standards.
SIBERIAN STURGEON BAERII CAVIAR
SIGNATURE AND RESERVE
–
Our Baerii Sturgeon caviar (Acipenser Baerii) comes in two distinct grades and a variety of packaged weights.
Caviar Baerii Signature (white vacuum tin) is our most economical caviar. The taste experience is not compromised by value. Its creamy and enjoyable texture thrills one's palate, forwarding many delicate ambiences that provide balance and elegance. These moderately sized eggs offer deep and subtle shades from anthracite to golden brown.
Caviar Baerii Rèserve (black vacuum tin) is "a cut above".  The finest and most precious Baerii eggs are selected for their size, aromatic potency and balance. Firm and silky eggs offer subtle butter and woody tastes with an exceptional long finish.
While 30 gram and 50 gram tins are our most popular sizes, they are available by special order in the following sizes: 10g Nano, 100g, 250g, 500g, 1kg and 1.7kg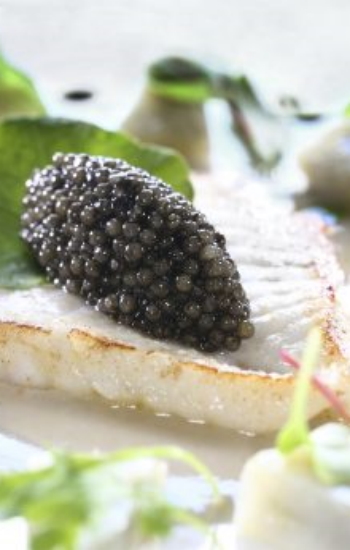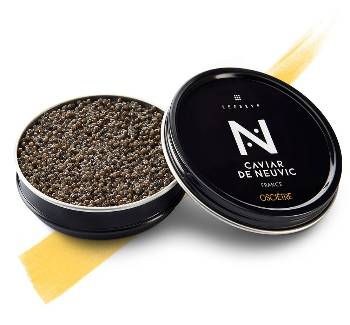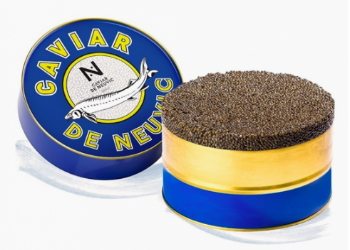 RUSSIAN STURGEON OSETRA CAVIAR
SIGNATURE AND RESERVE
–

Our Osetra Sturgeon caviar (Acipenser Gueldenstaedti) an iconic delicacy having origins in the Caspian Sea and favoured by connoisseurs the world over.  Available in two distinct grades and a variety of packaged weights.
Caviar Osetra Signature (white vacuum tin) has an essence reminiscent of an oyster's freshness and delicacy. These glossy, dark jade tinged golden eggs surprise with a delicate écume de mer essence revealing tones of roasted walnuts and a long finish
Caviar Osetra Rèserve (black vacuum tin) has firm, medium to large sized grains that glisten in shades of gold.  The caviar's distinct robust flavor teases the palate with distinct bright, nutty and briny flavours. Its luxuriously smooth and buttery texture literally melts on the tongue with an enduring extravagance.
Caviar de Neuvic is particularly proud of their Osetra caviar.  From their private estate, certain hand-picked twelve year old sturgeon deliver an exceptional caviar with an impressive lasting savour, synonymous with the quality of caviar rèserve